Catering with Zest is a private catering company based in Portsmouth, Hampshire, providing creative catering services for a range of events and functions including weddings, corporate events and outdoor catering. Don't forget to look at our sample menus for events.
How we work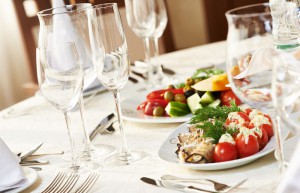 Catering with Zest offers a truly flexible catering service. Quite simply, we would ask you complete a questionnaire so we can get an overall idea of what you're looking for, dates and locations. We would then arrange a call or face-to-face meeting, whatever suits you best, to discuss the finer details and start creating a menu. Once we have finalised the menu, we can look at your preferences on ingredient sourcing, presentation and service. We can also discuss any taster sessions you may require.
Complete catering form
Arrange telephone call or meeting
Creation of menu
Presentation, equipment, ingredients and staff
Quotation
Taster session
Event planning
Arrive and deliver
Why choose Catering with Zest?
Fresh seasonal ingredients
Cater for all dietary requirements including Vegetarian, Vegan and Celiacs
We can adjust any menu to suit you
Well equipped to cater for any size function
Professional service staff
Creative culinary dishes
Our sample menus will hopefully give you an idea of what we can do. But, let's not hold back on getting creative! We absolutely love to hear your ideas and thoughts for your event – traditional, world themed or with a quirky edge. Whether you've got it planned down to the last mint, or would like some cuisine inspiration, we are happy to assist with your catering needs.
Local catering in Colwyn Bay and the north Wales region
Located in Colwyn Bay, we can easily get north Wales and surrounding areas. From wedding catering, business breakfasts, conference buffets, wake catering, intimate dinners, celebrations and more, speak to us about your catering needs.
Sit down dinners
Canapes
Lunches
Hot buffets
Cold buffets
BBQs
Hog roasts
Snack bars
Themed
Breakfast buffets
Children's parties
High tea
Wedding catering
Your wedding day catering is a big part of the planning process (along with an endless list of other tasks)! However, we like to keep things straightforward… and of course, tasty. From welcome canapes, four-course sit-down dinners and cheese courses to casual buffets, snack bars and hog roasts, we work with you to create a bespoke wedding menu that you and your guests will enjoy.
Private dinner party catering
Our professional catering service caters for small to medium, intimate dinner parties. If you're looking to impress your guests with a fine dining experience, in your home or chosen venue. One of our chosen chefs will come to you and deliver a gourmet cuisine, taking care of purchasing, preparing, serving and clearing away. Complement that with a team of professional waiting staff. Whether it's a special birthday, anniversary celebration or client hospitality, we will ensure every detail is met. Simply sit back and host a fabulous dinner party
Corporate breakfasts and lunches
Businesses in and around Portsmouth and Hampshire hosting networking events, seminars, conferences, training days and launch parties require professional, local catering. We provide breakfast buffets, corporate lunches, on-site lunches, private dinner parties, refreshments and finger food.
Funeral catering
Let us take care of the food and refreshments during a wake, with options of a hot and cold buffet service. We offer discreet, professional catering service for funerals throughout Hampshire and the surrounding regions.
Based in Colwyn Bay, our catering services reach throughout North Wales and surrounding areas, including Llandudno, Caernarfon, Wrexham, Rhyl, Betws-y-Coed and the Conwy Valley.
Catering in Colwyn Bay and north Wales – get in touch
CALL US: 01492 514798 / 07711 323541
EMAIL: hello@cateringwithzest.co.uk